Telangana Marriage Certificate: How to Apply, Verification at official website i.e,. https://registration.telangana.gov.in/marriageRegistration.htm
Marriage Certificate Telangana
In Telangana, obtaining a marriage certificate is a necessary step as it serves as an official record of the marriage. This government-issued certificate holds significant importance for various processes, including visa applications, participation in government programs, and securing legal spousal rights.
To apply for a marriage certificate in Telangana, you must have specific documents readily available. These documents include identification proof for both the bride and groom, age verification documents, proof of address, photographs from the wedding, the marriage invitation card, and any additional supporting documentation. These records play a crucial role in confirming the identities of the married individuals and validating the authenticity of the marriage. Ensure that you gather all the required paperwork before initiating the certificate application process.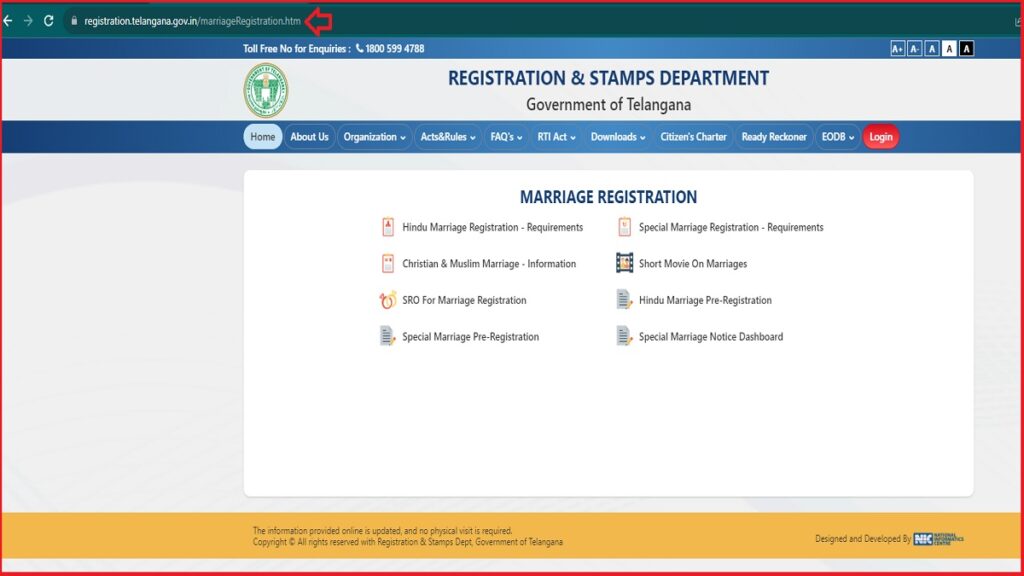 A marriage certificate is a legally recognized document that formalizes the union of a couple as husband and wife. This document contains essential information about the couple, such as their names, wedding date, and the location of their marriage. In Telangana, having a marriage certificate is a prerequisite for various legal procedures, including passport applications, name changes, and enrollment in government programs.
Telangana Marriage Registration
| | |
| --- | --- |
| Scheme Name | Telangana Marriage Certificate |
| Launched by | Government of Telangana |
| State | Telangana |
| Application process | Online / Offline |
Application Fee for TS Marriage Certificate
To obtain a Marriage Certificate in Telangana, you'll need to pay a fee based on the type of marriage:
For marriages under the Hindu Marriage Act: Rs. 100/-
For marriages under the Special Marriage Act: Rs. 150/-
You will receive a fee receipt upon applying for the Marriage Certificate in Telangana.
Validity
The Marriage Certificate is considered valid for a lifetime.
Processing Time
The entire application process typically takes around 45 days from the date of submission.
Documents Required for Telangana Marriage Certificate
To apply for a Marriage Certificate in Telangana, you will need the following documents:
Completed Application Form (available for download at Meeseva centers)
Small-sized Passport Photos
Legitimate proof of residence for both the Bride and Bridegroom
Evidence of Birth Date
Authentic Aadhar Card
Unaltered Wedding Invitation Card
1 or 2 Photographs from the Wedding
Three Individuals to Act as Witnesses
Documents that are self-validated as necessary
Certificates Demonstrating Caste Status
Telangana Marriage Certificate Application Process
To obtain a marriage certificate in Telangana, you can choose between two application methods:
Online Process:
Begin by registering on the Telangana State Marriage Registration Portal.
Submit your application online, make the necessary fee payments, and upload all the required documents.
After receiving your online application, the authorities will carefully review the submitted documents to ensure everything is in order before issuing the marriage certificate.
Offline Process:
Visit the sub-registrar's office to collect the application form for an offline submission.
https://registration.telangana.gov.in/marriageRegistration.htm
Complete the application form, attach the required documents, pay the prescribed fees, and submit your application.
Once submitted, the relevant authorities will review your application, and if all is in order, they will issue the marriage certificate.
Before applying for a Telangana marriage certificate, ensure you have all the necessary documentation and information ready. Both the online and offline application processes are quite similar in nature.