Haryana Saksham Yojana, Apply Online Form, Registration Online at official website Hreyahs.Gov.In
Saksham Haryana
The Yuva Saksham Yojana is exclusively open to residents of the state who have completed their intermediate, undergraduate, or postgraduate education. Under this program, the state government will provide a monthly salary of Rs 9,000 to unemployed graduates, which includes an unemployment allowance of Rs 3,000. Similarly, undergraduate individuals will receive a total monthly salary of Rs 7,500, with an allowance of Rs 1,500. It's important to note that this scheme is accessible for a period of three years. Beneficiaries who secure employment through the Haryana Saksham Yojana are required to work for 100 hours per month, equivalent to four hours per day.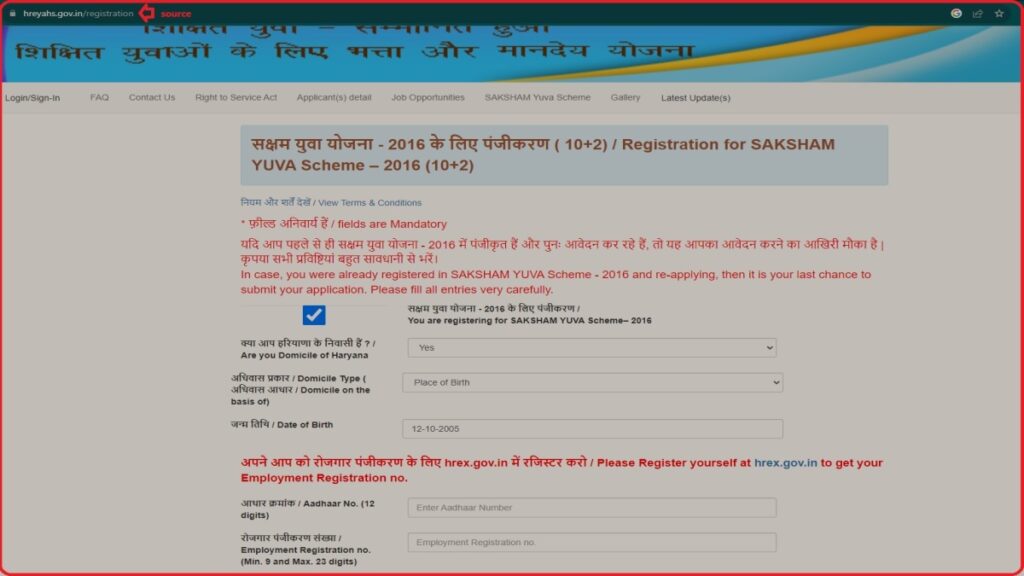 Haryana Saksham
If you are considering applying for the Haryana Saksham Yuva Yojana, be sure to review the following eligibility conditions:
The applicant must be a resident of Haryana.
The applicant should have successfully completed their 12th grade, undergraduate, or postgraduate education.
The applicant's age must fall within the range of 21 to 35 years.
Family Income: The total annual income of the applicant's family should not exceed Rs 3 lakh.
Saksham Yojana Haryana
Required Documents for Saksham Haryana Application
To apply for the Saksham Haryana program, you will need the following documents:
Aadhar Card (Applicant's Aadhar Card)
Income Proof Certificate
Educational Certificates (12th/Graduate/Post-Graduation Marksheet and Degree)
PAN Card or Voter ID Card
Bank Account Passbook
Passport-size Photograph
Mobile Number
Email ID
Benefits and Features of Haryana Saksham Yojana 2023
The primary objective of this scheme is to provide unemployment allowances to the unemployed youth in the state and reduce the unemployment rate. Here are some key features:
The Saksham Yuva Yojana was launched on November 1, 2016.
The scheme offers benefits for a maximum of three years.
Under Haryana Saksham Yojana 2023, the state government provides unemployment allowances of ₹100 per month to matriculate, ₹900 per month to intermediate, ₹1500 per month to graduates, and ₹3000 per month to postgraduates.
Only Haryana residents between the ages of 21 and 35 are eligible to apply.
The annual family income of the applicant should not exceed Rs 3 lakh.
Educated youth, including those with intermediate, graduate, or postgraduate qualifications, can apply for this scheme.
Haryana Saksham Registration Process
Haryana Saksham Yojana 2023 Online Application Interested candidates can apply online to avail the benefits of Haryana Saksham Yojana 2023 and receive unemployment allowances directly into their bank accounts. Follow these steps to register for Saksham Haryana online:
Visit the official Saksham Haryana website.
On the homepage, select the "Login/Sign-in" option, then click on "Saksham Yuva".
The login page will appear, and you can click "Signup/Register" below it.
Choose your educational qualification and proceed.
Indicate your registration for Saksham Yuva Yojana – 2016.
Confirm your Haryana residency, fill in your Domicile Type, and provide your date of birth.
Fill in your Aadhar Number, Family Identity Card, Employment Registration Number, Employment Office Name, Next Renewal Date of Employment Registration, Mobile Number, and Email ID.
Click the "Register" button to complete your registration.