PM Mudra Loan Yojana 2023 Apply ₹10 Lakh Loan at official website at https://www.mudra.org.in.
Pradhan Mantri Mudra Yojana
The Prime Minister has started a scheme called the PM Mudra Loan Scheme. It's for people who want to start their own small businesses. If you apply for this scheme, you can easily get a loan to help you start your business, up to ₹1,000,000. You can even get a loan to buy a vehicle for your business. This can make your life better by helping your business grow.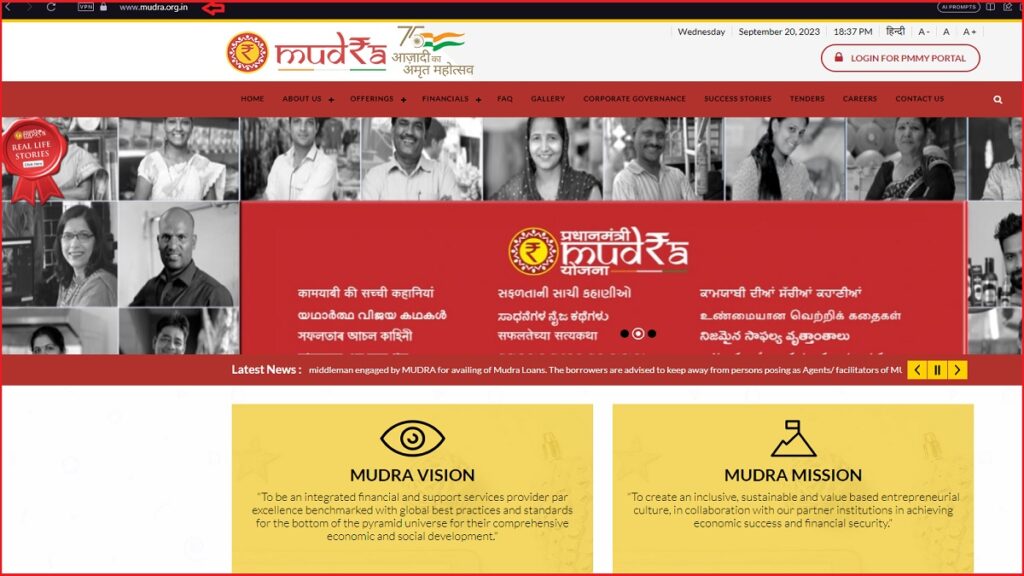 Types of PM Mudra Loan Schemes
There are three main kinds of Mudra Loan Schemes, each tailored to different business needs:
Shishu Loan: With Shishu Loan, aspiring entrepreneurs can secure a loan of up to ₹50,000 without any hassle. This helps them kickstart their small businesses.
Kishore Loan: Kishore Loan offers loans ranging from ₹50,000 to ₹500,000, providing a boost for business growth.
Tarun Loan: Tarun Loan caters to those seeking loans from ₹500,000 to ₹1,000,000, offering support for larger business ventures.
Pm Mudra Loan
A Mudra Loan comes with a special card provided by the government to its beneficiaries. This card functions much like a debit card, allowing beneficiaries to withdraw money from ATMs whenever they need it. It's a useful tool for covering business-related expenses. To use the card, a secure password is provided, which you should keep safe.
PM Mudra Loan Benefits
The Prime Minister initiated the Mudra Loan Scheme to encourage citizens to start their own businesses. With this scheme:
Citizens no longer have to borrow money from others to fund their business ventures.
You can easily secure loans of up to ₹10 lakh under the PM Mudra Loan Scheme.
Loan recipients are granted a five-year period to repay their loans.
Government-issued Mudra Cards are provided to loan recipients, functioning like debit cards for added convenience."
How to Apply PM Mudra Loan Yojana Online ?
Visit the official PM Mudra Loan Yojana website i.e., https://www.mudra.org.in
On the homepage, you'll see three types of Mudra Yojana options.
Click on the loan category you wish to apply for.
Download the application form by clicking on the download button on the next page.
Print out the form.
Carefully complete all the required information on the form.
Attach the necessary documents.
Submit the form to your nearest bank.
Your loan will be processed and provided within 1 month of submitting the form.
PM Mudra Loan Yojana Application Form
Visit your nearest bank.
Request the PM Mudra Loan Scheme application form from the bank.
Fill out the form with all the required details.
Attach all the necessary documents to the application form.
Submit the application form to a bank officer.
Your loan will be approved and transferred to you within 1 month.