PMJAY CSC Cloud Login & Registration, Ayushman Card PMJAY apply online at official website i.e., pmjay.gov.in
Ayushman Card
The Government of India launched the Ayushman Bharat Pradhan Mantri Jan Arogya Yojana (PMJAY) in September 2018. Popularly known as the Ayushman Card, this ambitious initiative has revolutionized the healthcare landscape by providing financial protection and quality medical care to millions of vulnerable citizens across the country. With its comprehensive coverage and emphasis on inclusivity, PMJAY has emerged as a game-changer in the Indian healthcare system.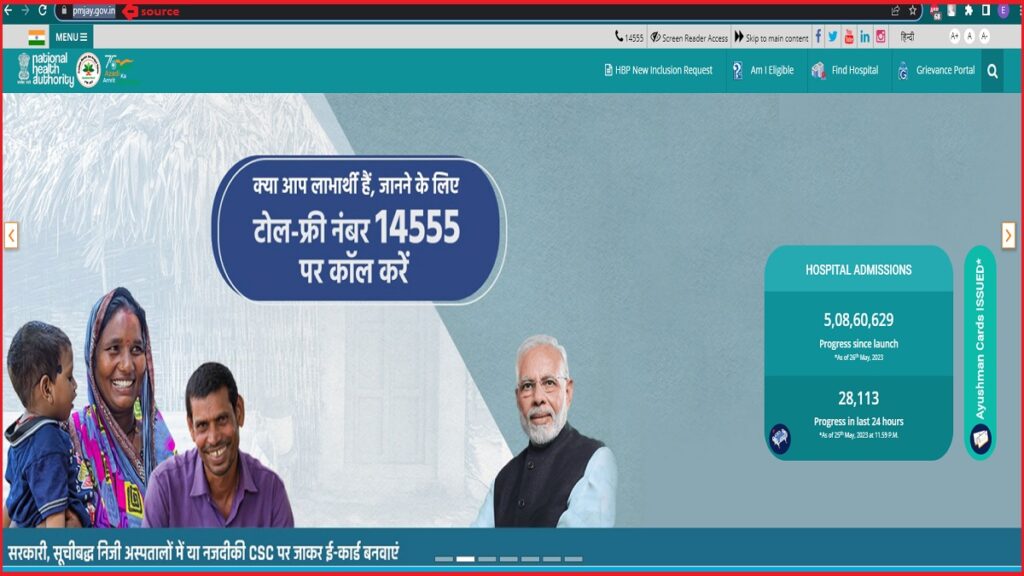 PMJAY CSC
Ayushman Card PMJAY is a flagship healthcare scheme under the larger Ayushman Bharat Yojana umbrella. It aims to provide health insurance coverage to over 50 crore individuals from economically weaker sections and vulnerable socio-economic groups in India. The scheme offers coverage for a wide range of medical treatments, ensuring that no family has to bear the burden of catastrophic healthcare expenses.
Details of Ayushman PMJAY Card
| | |
| --- | --- |
| Scheme Name | Ayushman Bharat Pradhan Mantri Jan Arogya Yojana (PMJAY) |
| Full Form | Pradhan Mantri Jan Arogya Yojana |
| Launched by | Government of India |
| Launched on | September 2018 |
| Card | Ayushman Card |
| Official Website | https://pmjay.gov.in/ |
Benefits Cover Under PMJAY
Medical examination, treatment, and consultation
Pre-hospitalization
Medicine and medical consumables
Non-intensive and intensive care services
Diagnostic and laboratory services
Implant services
Accommodation Free
Food
Complications arising during treatment
15 days Post-hospitalization follow-up
Pmjay gov in
Ayushman Card PMJAY encompasses a vast population base, including rural and urban populations, as well as vulnerable and marginalized communities.
Beneficiaries can avail themselves of medical services at empaneled hospitals without any out-of-pocket expenses, thereby reducing the financial burden on families.
The scheme covers a wide range of medical treatments, including both pre-existing and newly diagnosed conditions.
Ayushman Card PMJAY provides coverage of up to ₹5 lakh per family per year, ensuring that families do not face catastrophic financial consequences due to medical expenses.
PMJAY has an extensive network of empaneled hospitals, both public and private, across the country.
Ayushman Card PMJAY is portable, allowing beneficiaries to avail treatment in any empaneled hospital across India.
The scheme leverages technology to ensure a seamless and efficient process. Beneficiaries are issued a unique identification number, and the entire process, from enrollment to claim settlement, is digitized, reducing paperwork and delays.
Eligibility
To get the PMJAY Card one should have the following eligibility.
Eligibility for Ayushman Card PMJAY is determined based on socio-economic factors, with a focus on economically weaker sections and vulnerable socio-economic groups.
The scheme prioritizes households falling under identified deprivation categories in rural and urban areas.
Inclusion criteria encompass marginalized groups, while certain exclusions apply.
The scheme covers families, with a maximum of five members per family, including dependent children.
Valid identification documents are required to establish eligibility.
How to Get Ayushman Bharat Registration CSC ?
Locate the Nearest CSC Find the nearest Common Service Center (CSC) in your area. CSCs are typically located at the panchayat or block levels. You can use the official CSC locator tool or inquire locally to identify the nearest CSC.
Visit the CSC Visit the identified CSC during its working hours. Carry all the necessary documents, such as Aadhaar card, address proof, income certificate, and any other required documents as specified by the CSC.
Provide Required Information At the CSC, provide the necessary information to the CSC operator. This may include personal details, such as name, age, address, and contact information. Ensure that you provide accurate and up-to-date information to avoid any complications during the registration process.
Verification and Enrollment After providing the required information, the CSC operator will verify the details and process your enrollment for Ayushman Bharat PMJAY. This may involve cross-checking your documents and performing necessary verification checks.
Collect Ayushman Bharat Card Once your enrollment is successfully processed, you will be issued the Ayushman Bharat Card, also known as the Ayushman Card or PMJAY card. This card contains a unique identification number that you can use to avail healthcare services under the scheme.
Understand Scheme Benefits Take the time to familiarize yourself with the benefits and coverage offered under Ayushman Bharat PMJAY. This includes understanding the range of medical treatments covered and the empaneled hospitals where you can avail cashless treatment.
Avail Healthcare Services With your Ayushman Bharat Card in hand, you can now access healthcare services at any empaneled hospital under the PMJAY scheme. Present your card at the hospital during admission, and the medical expenses will be directly settled through the scheme.
Ayushman Card Online apply
How To Check Eligibility Online For Ayushman Bharat Yojana Online ?
Visit the Official PMJAY Website.
Locate the "Am I Eligible" section on the homepage of the PMJAY website.
Enter the necessary details such as your name, age, gender, state, and identification number (such as Aadhaar card number) on the designated page.
After entering the required information accurately, click on the "Submit" or "Check Eligibility" button.
The system will process your data and generate the eligibility result, indicating whether you are eligible for Ayushman Bharat Yojana or not.
Review the eligibility result provided by the system, which will provide instructions on how to proceed if eligible or reasons for ineligibility.
If you encounter any difficulties during the online eligibility check process, reach out to the helpline number or contact the designated support channels mentioned on the PMJAY website for assistance.